Get a Zomee Z2 Breast Pump
Learn about the innovations built into our newest breast pump that will help you pump more effectively. The Z2, which is strong and portable, offers Stimulation, Expression, and 2-Phase modes of pumping. Moms can now further customize their pumping sessions for convenience and comfort. The only pump with alternate mode technology now available is this one. In order to improve stimulation and express more milk in less time, this "2 phase" pumping method rhythmically alternates expression between the breasts. Without needing to change settings, it starts with a weaker extraction and then a flutter suction. Finally, a feeding pump that resembles how a newborn eats.
Wondering — Where can I get Zomee Breast Pumps? Shop With Us Today!
We at The Breastfeeding Shop are aware that breastfeeding isn't always simple, especially if you're dealing with a cranky infant who's having problems latching. Additionally, it may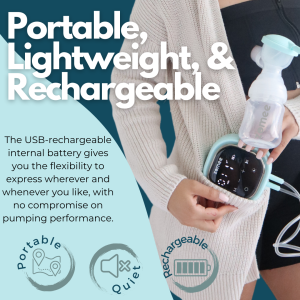 be challenging to regularly express enough milk for a developing baby. However, we consider breast milk to be crucial for a baby's development, which is why we provide the simple-to-use Zomee Z2 breast pump. The Zomee double pump was created primarily to help mothers pump breast milk in a secure and simple manner. It has wonderful features like an LCD display, a plush breast cushion, silent expression, and expression intensities that can be adjusted. Additionally, the Zomee pump can be charged by a USB port or an AC adapter, making it even simpler to use.
This secure breast pump also features backflow prevention, which means  milk cannot enter the other components of the pump. You won't have to be concerned about mold or bacteria making your child ill. The milk will be as clean and fresh as possible for your youngster.
Can I Get a Zomee Pump with My Insurance?
Be sure to contact us at The Breastfeeding Shop if you have any questions regarding Zomee pumps. For new parents, we work to make the breast pump ordering procedure as simple as we can. Additionally, if your insurance company allows it, we could even be able to assist you in getting a Zomee pump fully covered! You are living a magical moment in your life, and you don't want to ruin it by talking to your insurance provider on the phone for too long, do you? Give us the difficult work to perform. Simply complete our pump order form, and we'll take care of the rest!
We can assist you even if you're unsure of the breast pump you wish to order. Our skilled and committed employees can explain the variations between a Zomee pump and a Elvie or Spectra pump. It doesn't necessarily mean that a certain pump will meet your unique demands just because it worked well for your cousin or coworker. Thankfully, there is no need for you to make such a crucial decision alone.