Your Source For A Freemie Independence Breast Pump
Are you looking for a simple breast pump that isn't overly complicated? The Freemie Independence breast pump was designed to be extremely easy-to-use for breast pumping moms. It is a compact breast pump — you can carry the Freemie around with you wherever you go. So, you can have peace of mind knowing that you'll have your hands-free breast pump with you right there whenever you need to express milk — whether it's at work, in the car, or at a family gathering. Plus, there are no bags to spill and no tricky apps to mess around with. The Independence breast pump makes for a smooth breast pumping experience. As a new mom, there are a lot of adjustments you'll be making in your life. But this great pump from insurance can help make things a little easier on you. Reach out to us for more details.
Looking To Buy A Freemie Pump Nearby? Shop With Us Today!
The Freemie breast pump's features include a closed system, hands-free cups, and noise reduction technology. It's very discreet and mobile, so you're not calling attention to yourself whenever you pump. Additionally, the Freemie Independence breast pump is a strong breast pump that comes with hospital-grade suction levels. Therefore, you can pump quickly and quietly, directly into the breast pumps' closed system, which holds as much as eight ounces of milk.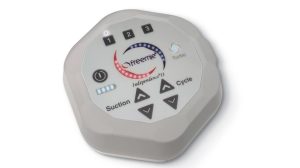 If you're wondering, "Where can I get a Freemie pump near me?" you've come to just the right spot. The Breastfeeding Shop is here to help make the breast pump ordering process as easy as possible for you. If you're preparing for a baby, you may not have all the time in the world to contact your insurance provider. With our years of experience working with insurance companies, we know how to help get you the free breast pumping equipment and supplies you need.
And even if you're not quite sure which pump is right for you, reach out to us. Our staff can go over the differences between a Freemie vs. a Medela or any other pump you're interested in. This is an important decision to make. Just because one pump worked perfectly for your coworker or relative, it doesn't mean that it will be the right breast pump for your needs. With years of experience, we know the ins and outs of each of our breast pumps that are available, and we're happy to help you out.
Contact us for more Freemie pump info!