How Do I Use a Spectra S9?
Whether you need to pump at work every day or occasionally in the car between errands, the Spectra S9 breast pump may be exactly what you're looking for. Weighing only a half-pound, it can fit in your pocket, in your purse or bag, or even right in the palm of your hand. Furthermore, this discreet, quiet, small breast pump can be used anywhere you need to use it. Plus, it's powerful enough to get the job done efficiently — it has a maximum suction strength of 250mmHg. With its digital display, it's easy to find just the right settings that will make it easier to express milk and store it properly.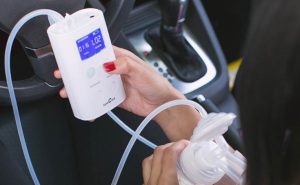 You may be wondering how to use a Spectra S9. Actually, it's very easy to use. And the S9 Plus has a massage mode that can help you achieve letdown. Then you can easily switch over to expression mode, using the pump's touch button controls. Above all, it's important to feel comfortable while you express enough milk for your baby.
Why Get a Spectra S9 Breast Pump
One of the great things about Spectra pumps is that they include backflow technology. With milk coming into contact with fewer pump parts, not only does this make the pump easier to clean. Moreover, it makes the pump safer for your baby. Therefore, you can have peace of mind, knowing there aren't small milk particles left in the pump, causing mold and bacteria to build up.
If you're wondering, "Where can I get a Spectra S9 near me," you've found your way to just the right place. The Breastfeeding Shop is proud to serve families all around the world. And we make it much easier for moms to get free baby nursing equipment through insurance. However, you should reach out to us today for more information — certain Spectra S9 insurance only covers breast pumps for a certain amount of time after the birth event. And if you're trying to decide between a Spectra breast pump S2 or S9, reach out to us. Our staff is very knowledgeable, and we'll go over all of the differences with you, helping you make the right informed decision for you and your baby. We strive to make it easy for you to get the exact right breast pumping equipment and accessories that you need.