Maternity compression chart
Maternity Compression Chart
As your baby grows in your womb, you'll start to notice changes in your own body. The added weight from your child can affect your low back, your core muscles, your pelvis, and your hips. But there's something you can do to lessen the load a bit. You can buy maternity compression garments for moms. Or, even better, you can partner with The Breastfeeding Shop to get free compression garments for moms. There are a number of benefits of maternity compression garments for moms. Some of them include added support and comfort, reduced swelling and blood clots, and a quicker recovery period. To get the full benefits of pregnancy garments, you'll have to get the right size for you. That's where our maternity compression chart comes in.
Sizing Your
Compression Garments
At The Breastfeeding Shop, we try to make it as easy as possible for moms to get pregnancy compression garments in the right size. If you need some more help or information, don't hesitate to contact us.
Postpartum Compression Garment
Sizing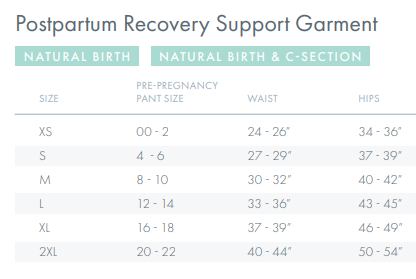 Maternity Support Band
Sizing