Get an Evenflo Advanced Breast Pump
We know how important a support system is for breastfeeding and pumping moms, and we are genuinely excited to be part of yours. After purchase, register your Evenflo Advanced breast pump to access your 3-year warranty and your breastfeeding and breast pump education. In addition, our team of Breastfeeding Experts are available for one-on-one pumping support.
– Recommended by Breastfeeding Experts and Moms
– Maximizes your milk output
– Comfortable and gentle on breasts
– Designed with noise cancellation experts for a quiet, discreet pumping experience
– Lightweight and portable with multiple power sources – plug, battery, and car adapter
– 3-year warranty
A Great Compact Breast Pump
If you're wondering, "Should I get an EvenFlo pump near me?" you've come to the right place. With the help of the EvenFlo breast pump, you can forget about having to stay home and pump. Because it can easily be charged with AA batteries, this is your mom-on-the-go breast pump. Whether you have to pump at work, in the car, or at a friend's house — the EvenFlo pump makes it a bit easier on moms who've been tasked with providing milk for their children. This pump is lightweight, portable, and comfortable.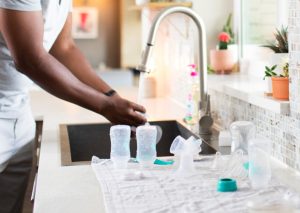 The adjustable settings of this breast pump from EvenFlo make it completely customizable. You can adjust the separate suction and speed controls until you find the very best breast pump settings for you. If you're going to pump enough milk for your baby, you really need a comfy, convenient, and soft breast pump that's also powerful enough to get the job done. And if you plan on pumping regularly, it's important to have an effective breast pump. So, you're not stuck pumping through large parts of your day. Just because you're feeding a baby, it doesn't mean that you have to put your whole life on hold. Additionally, this breast pump from EvenFlo is easy to clean, saving you a bit more time and effort each day.
Looking to Get an EvenFlo Advanced Breast Pump? Shop with Us Today!
EvenFlo pumps have some terrific features, including a closed system that helps keep out bacteria and mold, removable silicon inserts, angled flanges, and adjustable suction control, allowing you to find just the right settings for you. If you're thinking, "Where can I get an EvenFlo pump?" contact The Breastfeeding Shop today. Depending on your insurance coverage, we may even be able to help you get your breast pump completely free of charge. We work with insurance providers every day, so we know the ins and outs of the industry. Our team is here to help make the whole breast pump ordering process easy for you.
And even if you're not quite sure which pump you want, feel free to give us a call. We can break down the differences between Spectra vs. EvenFlo pumps. Just because a certain pump worked perfectly for your friend, cousin, or coworker – it doesn't necessarily mean it's the right breast pump for you. Every mom has their own needs, preferences, and breast pumping places. If you're trying to find a breast pump that fits your specific needs, there's no need to go it alone. Reach out to The Breastfeeding Shop for more EvenFlo breast pump info. Our team is both knowledgeable and very friendly. And we may even be able to help you get your breast pump completely free of charge through your insurance provider.