Why Moms Love The Spectra S2 Breast Pump
The S2 Plus is a hospital-grade Spectra pump that, on average, helps moms have more-productive pumping sessions. With a max suction strength of 250mmHg, not only will your infant have enough to nourish him or her. Also, you'll probably have extra breast milk to store in the freezer or fridge, just in case you need it. If mom's ever running late coming home, dad or the babysitter can just reach in the fridge and grab a bottle of milk.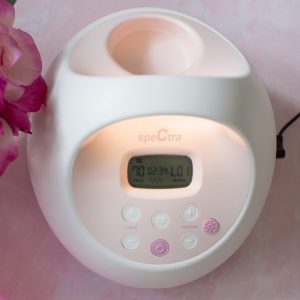 Yes, this is a powerful, hospital-grade breast pump. But it also comes with all the settings and features you need to pump in complete comfort. The adjustable suction levels and massage
 mode allow you to mimic the natural flow of milk of a hungry baby. Reading all of this — you'd probably expect this fantastic breast pump to be overly expensive. On the contrary, it's actually affordable. And The Breastfeeding Shop might be able to get you one for free with your insurance. Contact us today to find out more.
Get a Spectra S2 Breast Pump
You might find yourself thinking, "Is the Spectra S2 right for me?" This is the perfect breast pump for working moms or moms who plan to pump exclusively. This easy-to-use breast pump is strong and powerful as well as quiet and flexible.
All you need is a nice, quiet spot to express milk in, and the pump's amazing settings will take care of everything else for you. If you want to compare the Spectra S2 vs. Medela, check out our breast pump comparison page. And shop with The Breastfeeding Shop for Spectra S2 Plus pump compatible bottles. If you're thinking, "Where can I get a Spectra S2 pump near me?" we've got you more than covered.
A Safe Breast Pump You Can Trust
Like all Spectra pumps, the Spectra S2 breast pump comes with a closed system. Therefore, you won't have to worry about the motor malfunctioning or any hygiene issues. Its backflow protection keeps harmful mold and bacteria out of your milk. So, you can have peace of mind knowing mold won't make your baby sick.
Backflow Protection
● This helps protect the breast milk and therefore your baby from mold, bacteria, and viruses when you pump.
● It keeps the tubing dry by preventing air flow between the expressed milk and the breast pump tubing.
● Plus, there's no need to clean the narrow tubing.
Customize Your Pumping Experience
● The S2 Plus has 2 Phase Cycling with a Let-Down Button. And there's completely adjustable cycling and suction in let-down and expression modes.
● Personalize the pump to follow your flow and find the best settings for you. Every mother can customize her breast pump's settings to fit her own body's response.
You might be wondering exactly how to use a Spectra S2 pump. You can use the S2 breast pump as either a single or double pump. So, if your child is feeding on one side, you can use the spare side to pump and store up a milk supply. This can be an extra benefit for over-exhausted and overworked moms. Then you can use the bottle to share feeding duties with dad.