Get Your Ardo Alyssa
Introducing the Ardo Alyssa – a revolutionary breast pump that is not only compact and user-friendly but also packed with innovative features. Among its impressive capabilities, the Ardo Alyssa boasts the world's sole automatic Power Pumping function that emulates cluster feeding to enhance milk supply. Furthermore, this state-of-the-art device allows you to conveniently save your pumping history and grants you the freedom to pump at your convenience with its built-in battery.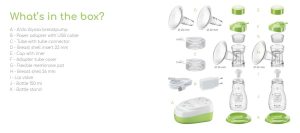 Wondering how to get an Ardo breast pump? Here at The Breastfeeding Shop, we love the Ardo because of the options and technology that it comes with. It is very quiet as well — so good to have in the middle of the night. This can also be a portable pump because of the option to run it off of AA batteries as well as a car charger. It is considered a "closed system," so you don't have to worry about moisture getting into the tubing. Who wants to clean tubing when you are barely sleeping?
It's a well thought out breast pump, developed by the leading minds in breast pump technology. So, contact us to get an Ardo breast pump from Tricare, Cigna, Aetna, HealthLink, Blue Cross, CareSource, and more.
The Amazing Alyssa Breast Pump
Looking to locate an Ardo Alyssa breast pump but not quite sure where to start? You've landed in the perfect place. Even if you're uncertain whether this is the ideal device for your needs, don't hesitate to reach out to us. Our team of knowledgeable experts can guide you through the distinctions between an Ardo and a Medela breast pump. Since every mother's milk production requirements differ, it's crucial to avoid relying on recommendations from friends or family members, regardless of how trustworthy they may be. This decision can significantly influence your breastfeeding journey, so don't attempt to navigate it alone when we're here to support you. Our proficient team members possess extensive knowledge of various types of pumps available to moms. Don't hesitate to contact us and learn all about breast pumps.