Why Should I Get a Spectra S1 Breast Pump?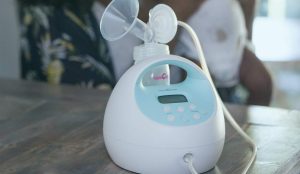 The hospital-grade S1 Plus has so many fantastic features. With its compact body, rechargeable battery, and built-in light — this powerful breast pump was designed to make life a bit easier for moms who need to pump on the go. There's no need to worry. You can feel confident in this top-quality equipment each time you go out. And like all Spectra pumps, the S1Plus was designed with a closed system. Therefore, there is a physical barrier between the pump and the expressed milk. This way, mold and bacteria won't get in the breast milk. So, you can have peace of mind knowing all of this when you safely feed your baby.
You may be wondering how to use a Spectra S1. They are meant to be adjustable and adaptable, so the pump can meet your specific needs. First, you can use it as a single or double breast pump, and the Spectra S1 breast pump has a max suction strength of 250mmHg. Plus, this great breast pump has adjustable suction settings and a massage mode that will soothingly match your body's rhythm. And feel free to adjust the suction in both let-down and expression mode! Don't forget that the Spectra rechargeable pump is portable, quiet, and easy to use, with its timer, digital controls, and nightlight. Whether you have to pump in the middle of the night or the afternoon, your Spectra S1 Plus breast pump will be there for you. You're free to pump without drawing attention or waking up your entire household.
Spectra S1 Breast Pump Features
Backflow Protection
● It helps protect the breast milk and the baby from mold, bacteria, and viruses while you pump.
● Backflow protection keeps tubing dry by preventing airflow between the breast pump tubing and the expressed milk while you pump.
● There's no need to spend time cleaning the narrow tubing.
Customize Your Pumping Experience
● Don't forget about the 2 phase cycling with a Let-Down button. There's completely adjustable suction and cycling in the let-down and expression modes.
● Experiment and find the settings that work for you. Each mom can customize the pump's settings to her own body's response. You can follow your flow to find the best settings each time.
Having Trouble With Spectra S1 Insurance? Contact Us!
Our team makes it so much easier to get a Spectra breast pump through insurance. We know moms and lactation consultants who absolutely love this pump! In fact, the S1 is one of the best breast pump for low milk supply. And wherever you are in your breastfeeding journey, this practical and comfortable pump can make your life a little easier. It's only 4 lbs., and you can power it through either an AC adapter or the built-in rechargeable battery. Also, if you'd like to know more about the differences between a Spectra S1 pump vs. an S2, reach out to us at The Breastfeeding Shop. We are more than happy to help you out. If you're thinking, "Where can I get a Spectra S1 pump near me?" we've got you covered.