What Is a Postpartum Compression Garment?
A postpartum recovery support garment is sometimes confused with shapewear garments like a corset, waist trainer, belly belt, or abdominal binder. The difference is that a postpart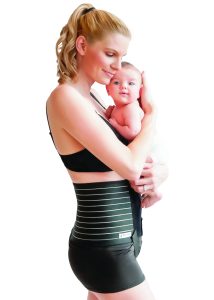 um recovery garment is a medical device designed to provide real health benefits as your body restores itself after childbirth. Body shapers are designed to squeeze your core into a smooth silhouette temporarily. A postpartum girdle is meant to support and align your healing postpartum body so your core muscles can regain strength more quickly. It helps reduce postpartum swelling and bleeding as well.
Eligible for coverage through your health insurance, unlike body shapers and corsets
Breathable, high waist girdle with adjustable shoulder straps designed to be worn seamlessly under clothing
Provides gentle, medical grade compression to your entire midsection, extending from thighs to upper abdominal area
Why You Might Need a Postpartum Compression Garment
The core muscles need extra support and TLC in the first few weeks postpartum as they begin to slowly heal after delivery. Your ligaments and connective tissue that stretched out and loosened up during pregnancy are beginning to shrink and firm up. Your organs and abdominal muscles are settling back into their pre-pregnancy positions. Medical grade compression helps support all of this hard work your body is doing, without placing additional pressure on the pelvic floor. As you adjust to motherhood, your new daily routine can take a toll on your body and a postpartum girdle can help stabilize joints, reduce swelling, and improve mobility. It also provides the back support needed to encourage moms to stand and sit straight, avoiding a hunched back so common when breastfeeding and caring for a newborn.
Posture And Back Pain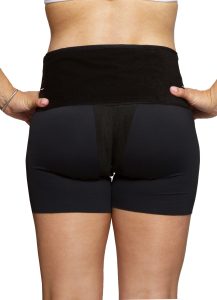 When the sacroiliac (SI) joint, which helps to stabilize the pelvis, loosens to allow the hips to widen in preparation for childbirth, it can cause lower back pain and discomfort. This pain often persists into the postpartum period, before the joints and muscles have had a chance to fully stabilize. Keeping good posture can be difficult in this period of reduced core strength and stability. Wearing a high-quality postpartum support garment has been shown to help moms maintain good posture, providing abdominal support, aligning the lower back properly and combatting back pain. As you start resuming some of your daily activities, the postpartum recovery support garment is a wonderful back support aid to help you establish good movement habits, including sitting and standing with proper spine alignment.
Diastasis Recti Recovery
Diastasis Recti (DR) is a very common condition that occurs when the abdominal muscles that run along the middle of the abdomen separate during pregnancy. There is a thin line of connective tissue, the linea alba, between the two rows of muscle which relaxes and stretches which allows the muscles to pull apart to make space for an expanding uterus. In many cases, the condition will resolve itself naturally as the linea alba tightens up and pulls the muscles back into place during the first few weeks postpartum. New moms can benefit from a little extra support to help this process along. In the case of persistent DR that lasts beyond six weeks postpartum, the weakened state of the core can cause pain, discomfort, and instability.
For all moms post-pregnancy, even those who don't experience DR, it's important to build the core muscles up again.
Medical grade compression provides back support, stabilizes the core to improve posture, and helps to guide your abdominal muscles back together.
C-Section Recovery
For moms who give birth via cesarean delivery, healing from major surgery while also caring for a newborn can be especially challenging. Postpartum compression can be an invaluable tool to help speed recovery while protecting and providing external support to the cesarean scar during the first few long days and nights of parenting. It's normal for C-section incisions to hurt when coughing, laughing, or when baby is positioned over the area during breastfeeding, but a postpartum recovery garment can help provide protection in the first few weeks postpartum when your body is especially sensitive.
Mama Strut's Medical's postpartum girdle features a side zipper that makes it easier to pull on and off without ever having to drag directly across the C-section incision.
Unlike postpartum belly wraps and belly bands sometimes provided to C-section moms in the hospital, the Mama Strut garment does not bunch in awkward places or sit uncomfortably high or low on the incision site.
When To Wear The Postpartum Support Garment
Postpartum compression garments that provide pelvic floor support (again, not shapewear garments, waist trainers, abdominal binders, or postpartum corsets) can be worn at two weeks after your baby is born until up to four months postpartum, whether you're a first time mom or have gone through childbirth multiple times. It's a good idea to wear your postpartum support garment as you are up and about caring for and feeding your newborn, doing housework, walking, and any time you need extra back support. Unlike post pregnancy belly wraps or postpartum recovery belts, a true postpartum recovery garment will provide support to your entire midsection, not just to the belly.
Maternity Compression Free Through Insurance
Mama Strut's Maternity Compression are FDA-listed medical devices designed to provide support and relief for pregnant and new moms. These garments may be covered by your insurance. Place an order today, and The Breastfeeding Shop will walk you through EVERY step of the process.