Your Reliable Source For The Best BabyBuddha Breast Pump
If you've been looking for BabyBuddha breast pump stores, your search is over. Thanks to the BabyBuddha breast pump, moms can forget about spending hours stuck in a room by an outlet, listening to a loud pumping noise. With its breast pump lanyard, you can easily hang the pump around your neck and go about your business. You'll have the freedom to do whatever you have to do. Whether your multi-tasking includes cooking a meal, doing some laundry, making a conference call, or looking after your baby — you're free to move around as you need to. We understand how busy life can be for a new mom. That's why we offer this convenient breast pump that allows you to fit pumping sessions into your schedule. Making the decision to feed your baby breast milk doesn't mean that your life has to come crashing to a halt.
Trying To Get A Free BabyBuddha Pump? Shop with Us Today!
BabyBuddha pumps come with the following amazing features — hands-free use, easy-to-use controls, an anti-backflow design, a quiet system, and more. If you need to pump quickly and quietly without waking your baby, that's possible with the BabyBuddha breast pump. Also, the BabyBuddha is comfortable and very easy to operate. In order to express enough milk, you need to find the right suction settings for you. And the great BabyBuddha makes it easier for you to do that with its 14 different modes to choose from.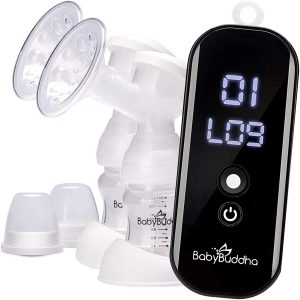 If you're wondering, "Where can I get a free BabyBuddha Pump near me?" you're at just the right spot. The Breastfeeding Shop has years of experience working with insurance providers. Therefore, we can make sure all the forms are filled out properly, and your breast pump is delivered right to you. Whether you need a Tricare, Aetna, Cigna, or a Blue Cross and Blue Shield Babybuddah pump, reach out to us today. With a baby on the way, you may not have much free time to try to talk with your insurance about getting Babybuddha portable pumps. So, let us do the hard work for you.
Our team strives to do whatever we can to help moms get the baby milk pumping equipment that they need. At The Breastfeeding Shop, we wholeheartedly believe that breast milk is the best source of nutrition for growing babies. So, we will do whatever we can to help you get the equipment you need to feed your child. And this breast pump from BabyBuddha will make this whole process a bit easier on you.
Contact us for more information today