Elvie Vs Ameda
A high-quality breast pump is something that every new mommy should have. Even if you are planning to breastfeed directly, it still doesn't hurt to have a pump just in case. If you are struggling with engorgement or a low milk supply, you can use your breast pump to help. Also, if you're running late coming home, the babysitter can just reach in the fridge and grab a bottle of breast milk that you pumped. There's no need for you to worry about your baby going hungry. But, as you've probably noticed, there are a lot of different breast pump options nowadays. Instead of trying to compare breast pumps by yourself, you can always reach out to The Breastfeeding Shop for more information. In this article, we'll be comparing two electric breast pumps — Elvie vs Ameda.
Elvie Vs Ameda Finesse
You may be asking yourself, "Is Elvie better than Ameda?" Really, it's more about finding the breast pump that's right for you. It's important to remember that every mom has their own needs when it comes to expressing milk. Even if you're getting a recommendation from a reliable source, like your best friend or a coworker you've known for years — the breast pump that worked for them may not be best for you. Certain breast pump models are made specifically for on-the-go moms or working moms. Meanwhile, others are designed for the casual pumper or moms who plan to pump and breastfeed directly. Therefore, you should look at your different breast pump options before you make this important decision. Having the right pump with the right features and accessories can make all the difference.
Should I Get an Elvie Pump?
When you envision yourself pumping milk, you may be picturing confinement. You're stuck in a corner by an outlet for hours and hours every day. But it doesn't have to be this way. The great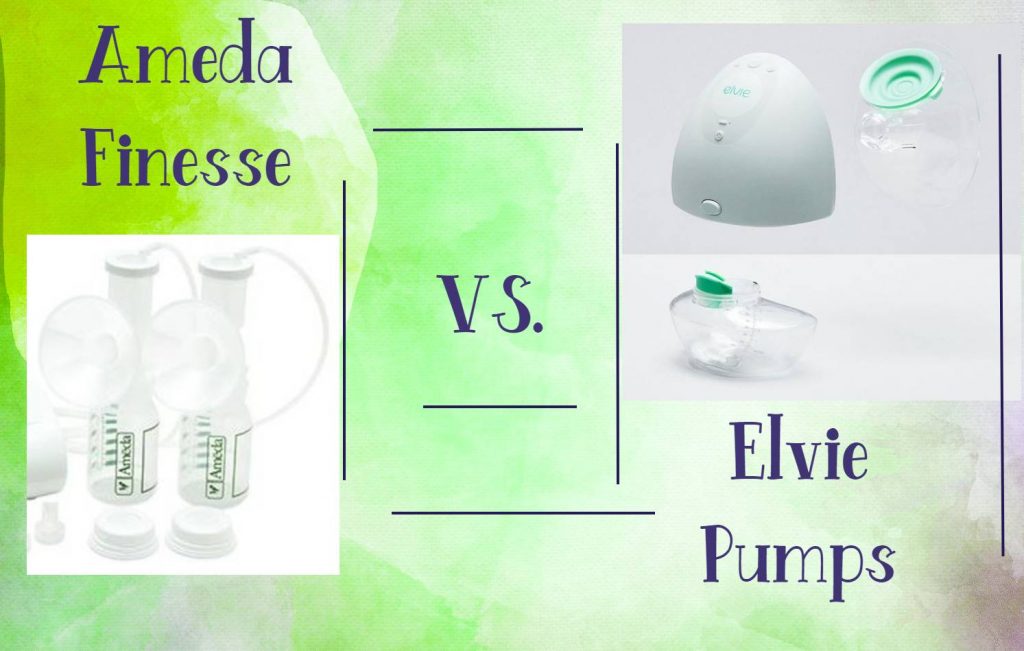 thing about Elvie hands-free pumps is that they make it easy to multitask. You can stick the Elvie directly into your bra and be free to do any tasks or errands that you need to do. That might be a conference call for work or doing some chores around the house. You can even use the Elvie breast pump to express milk during a long car ride to go visit family. There won't be any tubes or wires getting in your way or all tangled up.
This pump is compact, quiet, and fairly easy and straightforward to use. And it comes with a rechargeable battery. So, you're free to take it along with you and use it when you need it.
On the other hand, the Elvie breast pump is a bit more expensive than some other pumps. But, depending on your insurance coverage, you may be able to get an Elvie pump at a discount or completely free. If you're not quite sure what your insurance will cover, you can always reach out to The Breastfeeding Shop for assistance. Every day, we're working with a variety of insurance companies. That includes Aetna, Cigna, Humana, Highmark, Blue Cross and Blue Shield, Choice Care, and many more. But how do you compare the Elvie vs Ameda pumps?
Is the Ameda Finesse a Good Pump?
The Ameda Finesse is a great pump. Basically, Ameda took the features of their hospital-grade Ameda Platinum® and put them into the Finesse. So, you're getting the efficiency, smoothness, and comfort of a hospital-grade Ameda pump put into a model that's easier to carry around. The Ameda Finesse is lightweight and portable, and it can fit right in the palm of your hand. The Finesse can be plugged into an outlet, or you can charge it using AA batteries. Plus, it comes with a closed system. That means that the milk will stay out of the motor and tubing whenever you pump milk, making the pump easier to clean and safer to use. You can have peace of mind there isn't any bacteria and mold growing in your pump.
If you want some more details on the differences between Elvie vs Ameda, you can get in touch with us. Here at The Breastfeeeding Shop, we're more than happy to go into greater detail on these two fantastic electric breast pumps or any of the other breast pumps we offer, like the Medela Pump In Style and Freestyle Flex.