There are a lot of new breast pumps that have hit or are hitting the market in 2023 (so exciting).  With brands like Spectra & Medela, (tried and true), Zomee & MomCozy are newer and wonderful options for your individual needs depending on your lifestyle.  
Here's all the information you'll need on selecting the best breast pump for you and the most popular breast pumps from The Breastfeeding Shop's mom's (Almost 10 years of data!) 
In this article:
What Types of Breast Pumps Are There?
There are 5 styles of breast pumps.
Hospital-grade breast pumps
You will see this in the hospital when you are having baby – the are meant for multiple people. They are often a rental for NICU babies or if a mom is having a difficult time with her milk coming in. Your lactation consultant will let you know if you need one of these.
Electric breast pumps
These are usually double electric – pumps both sides at same time. They are efficient, can be rechargeable or plug into the wall. Come with flanges, tubing etc. Recommended if you are new to using a breast pump.
Wearable electric breast pumps
(sometimes also called hands-free pumps): This category has really grown over the past couple of years. Wearable pumps let you pump more discreetly than traditional breast pumps. These are often recommended if you have used a pump before if you must pump discreetly or on the go. Usually a backup pump to your traditional pump.
Portable breast pumps
Portable breast pumps are a cross between a traditional pump and a wearable pump. This type of pump is typically smaller than a "tabletop" pump and have flanges and tubing. You can often use these with hands fee collection cups.
Manual breast pumps
These breast pumps use the pressing motion of your own hand to create suction and pump your milk. These are inexpensive & great to have on hand for emergencies and a quick pumping session.
The Breastfeeding Shop's Top 11 picks for each category
Having helped thousands of moms through the years – we have a wonderful understanding of what moms want! Having seen many of the best brands come to market – we are happy to share our Top picks of breast pumps. This list was given a lot of thought and created based on feedback from our customers. The list is not in any order.
Best Tabletop/Standard Breast Pumps
Spectra
Spectra is a wonderful brand and is our most requested standard / tabletop breast pump.
The Spectra S1 & Spectra S2 are very similar – the big difference is that the S1 is rechargeable & the S2 requires being plugged in. Both have independent speed and suction strength settings as well as separate let down mode. They also have a nightlight.
The Spectra  offers a wide range of flanges and accessories are widely available as well. We often recommend to new moms that have never used a breast pump before to start off with a standard breast pump because of the wide availability of accessories. Although this is not a new pump for 2023 – it is tried and true.
Best Portable Electric Breast Pumps
Portable breast pumps are a great option for the mom on the go – can be a primary pump as well as a backup pump. They are generally smaller than a tabletop – have the same functions as the standard pumps as well but are rechargeable.
Zomee Z2
Zomee is a great brand – a bit newer – we have been getting a ton of great feedback on the Zomee Z2 – it also has an option of handsfree collection cups – so you have the best of everything – a small portable pump but can be used handsfree as well. We have a great in-depth review of this pump on YouTube.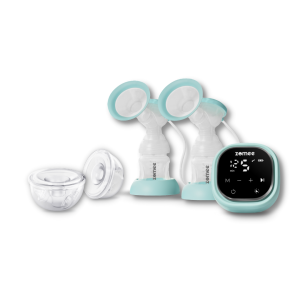 Baby Buddha
The Baby Buddha pump was nominated as so many moms claim they get more milk with this pump. It has very strong suction and is super small and portable. Although stronger is not always better, this pump is received very well.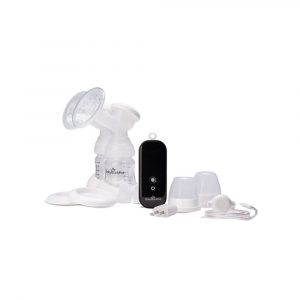 Ardo Alyssa
The Ardo Alyssa is a new pump for 2023. Ardo is a great company – it has been the leading breast pump company in Switzerland for many years. This is great for most moms as well as moms of NICU babies because of its strong suction and settings.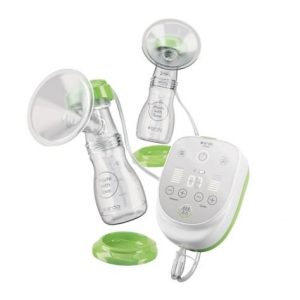 Best Wearable Breast Pumps
The wearable breast pump category has grown a lot over the past couple of years. It is still rapidly growing, and technology keeps expanding. Most of the lactation consultants that we work closely with only recommend a wearable breast pump as a "backup breast pump" for a variety of reasons, especially for a first-time mom. They have limited flange options & a limited capacity to hold milk. They defiantly have their conveniences as well.
Elvie Stride
Elvie Stride is one of our most requested breast pumps and has been since it launched. It does have tubing – but you only have one motor to charge which is nice. The suction is very good on this pump and the feedback has been great from our moms. The collection hubs are a little smaller because they don't hold the motor.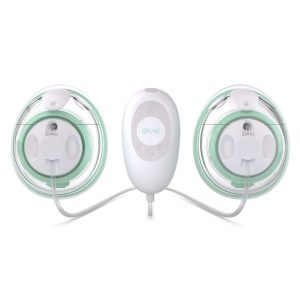 Willow 3.0
The Willow 3.0 is one of the most expensive breast pumps, which may be a drawback for many moms. It made the list because some moms – if they have a job that requires a lot of leaning over while having to pump – it is the only option that won't leak. It has milk storage bags which are very expensive and are only a 1-time use (unless you get the collection container – but that will not prevent the pump from leaking – only the bags will).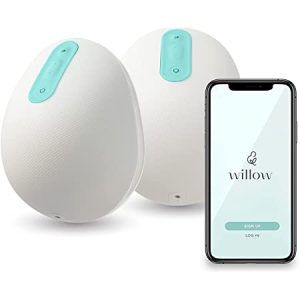 Zomee Fit
The Zomee Fit is new for 2023 and is a fantastic wearable pump & very wallet friendly. I think this pump is going to be extremely popular because of the technology in it – and the way it is made. Zomee is an impressive emerging brand and keeps coming out with unique and price sensitive pumps. A great choice for a mom that has a tabletop pump and wants to have a second pump for pumping on the go. Unlike other wearables – the flanges are silicone and not a hard plastic – which is very comfortable.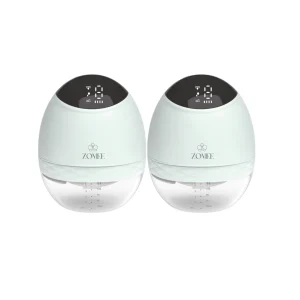 Momcozy S12 Pro
The Momcozy S12 Pro is also new for 2023 although the brand has been around for a bit. Many moms love this brand. It is a great option for a second pump and is very price friendly. Momcozy upgraded the flange on the S12 Pro for comfort and it is double sealed as well, which yields a very soft and comfortable fit. Great reviews on this pump as well. Looking forward to seeing the new products that they will be coming out with.
Best Hospital Grade Breast Pump
Hospital Grade Breast Pumps are used in hospitals and as a rental for in home use. Healthcare professional may recommend one in certain circumstances such as if your baby is born premature or having difficulty with your milk coming in. They tend to have more setting options.
Medela Symphony
has been on the top of the charts for years in this category. Many hospitals carry them, and they are the gold standard.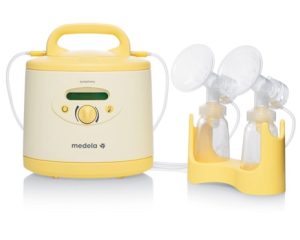 Best Manual Breast Pump
Manual Breast Pumps are always great to have on hand or in your breast pump bag. They are usually pretty inexpensive and are essential to have as a backup and can help fully expresses milk towards to end of a pumping session and even help milk come in.
Medela Harmony
is the best on the market. It is very sturdy, and it has two settings – a letdown mode by pressing the manual arm forward and an expression mode for expressing milk (press the arm backwards – it's easy!)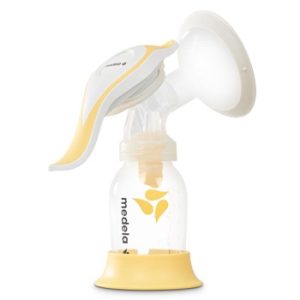 Tips for getting a breast pump through insurance
Under the Affordable Care Act insurances are required to cover the cost of a breast pump. Some (very few) are grandfathered pre-ACA and don't cover a pump, but don't worry – there are not many of them – and online retailers like The Breast Pump Shop (sister company of The Breastfeeding Shop) offer discounts and a large variety of pumps to choose from if your insurance does not pay for one.
Research what pump you like. YouTube, Social etc., You can call The Breastfeeding Shop and one of our breast pump specialists can help you decide what is best for you.
See if your insurance covers a pump. (They may also cover other maternity support products as well) You can do this by visiting or calling The Breastfeeding Shop and putting in your information on the website.
Many insurances will allow you to get a more expensive breast pump by paying the difference of what your insurance pays for and the upgrade for the pump. At The Breastfeeding Shop we have a wide variety of pumps that are both fully paid for by insurance and some that are upgrades.
Grab a prescription from your doctor's office. If your insurance company requires one you will need to send that in along with your breast pump order.
Place order the website or call us. (866) 255-6779
Wait for your breast pump.