Okinawa Japan Tricare Breast Pump Free through Insurance
Get Your Tricare Breast Pump In Okinawa Japan
Breast Pump Covered by Tricare Overseas in Okinawa Japan
If you are living in Okinawa, Japan, and need a breast pump — we can help! We accept most insurances, including Tricare health benefit. We can get you an Okinawa Japan free breast pump! You can choose from our selection of the best breast pumps and get one shipped directly to you at no cost! Although, some high-end pumps will require an upgrade fee. Just fill out our quick Insurance Order Form, and we will take care of the rest! You're just a few clicks away from getting your breast pump in Okinawa Japan.
Deciding Between Breastfeeding And Pumping
One of the benefits of exclusive breast pumping is that you can measure the exact amount of milk that your baby gets at each feeding. Therefore, you know that your child isn't being over or underfed. On average, babies usually get more milk from the bottle than from direct breastfeeding. Breastfeeding is probably a bit more natural, but that doesn't mean that it comes easily. Your infant may struggle with poor latching or too much biting, which can be very painful for moms. Additionally, when you exclusively breastfeed, that means that mom is the only person who can feed the baby. You have to be there whenever the baby is hungry — whether that's at 3 a.m. or 3 p.m. So, an Okinawa Japan free breast pump can be really helpful.
When you're wondering, "Does my insurance cover breast pumps?" we can help. Although we specialize in handling Tricare Health Benefit for military families, we also work with a number of other insurance providers. If you're located at Torii Station Army Base in Okinawa, Japan, contact The Breastfeeding Shop today. We can make it much easier to get the breast pump and accessories that you and your baby need. We have everything from pumps and milk storage bags to a helpful blog for new moms. Plus, we'll contact your insurance to get your Okinawa, Japan breast pump. We are your one-stop-shop for everything related to breast pumping.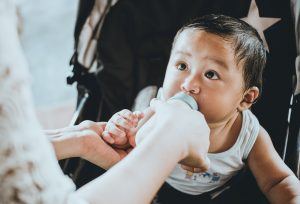 NEED SOME HELP WITH YOUR ORDER?